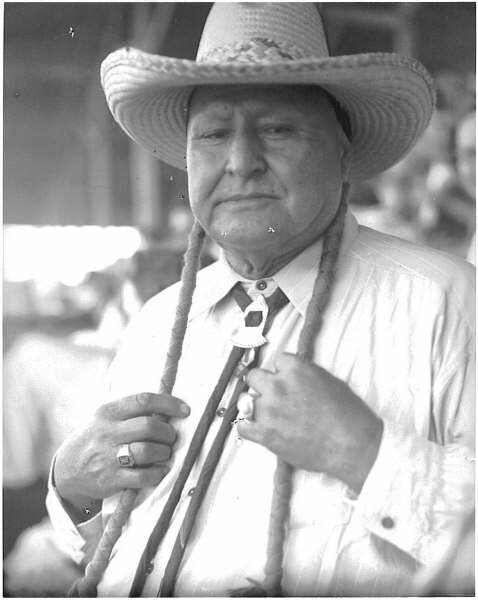 Harry Hall (Zo-ti or Zote-ah)
Harry Hall Zotigh lived in the Saddle Mountain or 'Sugar Creek' area in southwest Oklahoma, and was married to Belle Koomsa who was the grand-daughter of chief Satank (Sitting Bear, "Set-aghn-gia"). Harry Hall Zotigh was one of the men responsible for the revival of the Kiowa Gourd dance in 1956, and he belonged to both the Kiowa Gourd Clan and the Kiowa Tiah Piah. Harry's Kiowa name was, "Zote-ah" or "Zo-ti", meaning "Driftwood" or "Floating wood". By many accounts Harry was a good medicine man, highly regarded by folks in the area for his good humor and care of others. Harry was also a 'camp caller' or 'camp crier', and I've been told a few stories about his loud good natured calls around camp for folks to, "Get up! Morning is here! Bay-ha!".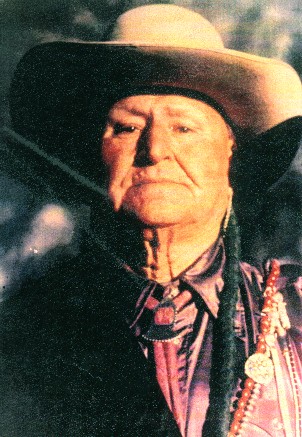 Harry Hall (Zo-ti or Zote-ah)
This site is under construction, but is dedicated to all members of the Zotigh family (the descendants of Harry Hall Zotigh).
ah-zout is the Kiowa word for "driftwood". (lit. ah 'wood' zout 'current flows')

**Note:
This page was created simply as a test of a small NT server running IIS5 hooked to a dynamic DSL connection, to see how well dynamic hosting functioned on a small server system with a common broadband connection. But, now that it is up, I'd like to continue the project with the help of any Zotigh family members who would like to get involved. Just drop me a line on the bulletin board, or e-mail me at scott@zotigh.com
This page was last updated on Friday, October 17, 2014 09:55 PM